Rozum originates from Wyomissing, PA….located 15 minutes outside of Reading, PA. His father was a dentist by day and a musician by night.  His mother was a nurse and a homemaker.  Rozum is a graduate of Boston's world renowned Berklee College of Music. The thrill of going to Berklee and living in Boston was certainly a fantastic four-year journey.  At Berklee, Rozum was surrounded by music day and night in one of the most beautiful & historical cities in the country, not to mention all of the great Colleges, Universities and Professional Sport teams located there too.
Since July 2020, Joe's single "Grease Funk" has been on the Smooth Jazz radio channels across the United States, the UK, Europe, Australia,  India, Panama, the Philippines and Zambia.
(140 Smooth Jazz radio stations and 18 weeks on the Smooth Jazz charts)
Seamless fusion of smooth jazz and pop — this is what best reveals Joe Rozum as an artist and composer.  His signature sound may be soothing piano ballads, but Rozum is well known for violin duets and performances with a full band.  His music has inflections of cool blues, soundtrack themes, gospel, and a hint of classical, which come from many musical influences ranging all over the map … Billy Joel, Elton John, David Foster, Diane Warren, Yanni, Oscar Peterson, Herbie Hancock, Chick Corea, Jim Brickman, Quincy Jones, Phil Vassar, Yolanda Adams, Oleta Adams Andre Crouch, Michael Jackson, James Taylor, Carole King, Earth, Wind and Fire, Gino Vanelli, Jamie Cullum, Lionel Ritchie, John Williams, Hans Zimmer & David Arnold.  The list can probably go on and on with such great musicians… And of course the great music of Elvis and the Beatles..
In addition to his passions for music, Rozum has a Huge Love & Passion for dogs and all animals……and maybe one day….. would love to start up an Animal Foundation / Organization Rescue to save, care and give animals the unconditional love that they always give to us all the time!
In closing, Rozum loves both performing solo to the Private Home Concert audience…..and on stage with his amazing band to the larger audience.  "I love making the piano talk and come to life.  My motto is 'Love what you do, Do what you Love'… I love that message and apply that to the piano when I perform, write a new song or take on a new project!"
Local success story Joe Rozum on his new single after its debut on the smooth Jazz charts
Please click below to see my 2 minute June 2021 interview on KTLA Channel 5 , with Entertainment Reporter Doug Kolk.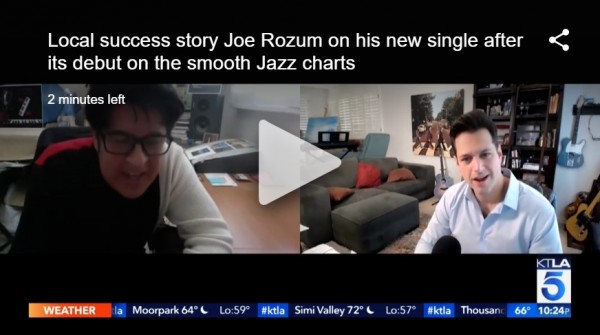 Rozum has recorded five original CDs from 2004 to 2012.  His extensive background of songwriting in all genres includes composing for commercials and film. One current commercial that repeats in southern California throughout the year is for the Valley View Casino in San Diego, which uses a :30 spot from his song "Boogie Cookin", from his 2005 CD release of Dusk On A Summer Night.  Other songwriting projects include the Bruce Lee Jeet June Do video, the Hanna-Barbera cartoon titled Phish and Chip, a commercial for the local based Los Angeles / Santa Barbara Gift Store Jay's Luggage, and music for the short film winner in the 1999 NY International Film Festival entitled Have A Perwinkle Day.  In 2005, Rozum did the music for an award winning, digitally animated film written and directed by Filmmaker Kelly Kennedy entitled The Baseball Card Shop.  One of the latest projects Rozum completed in 2015 was a collaboration on the song Somewhere Between Heaven and Earth with singer/ songwriter Stephen B. Steward and lyricist/poet Marie Kukula-Tyner which can all be found on YouTube.
The California-based Rozum also performs live.  Since 2004, he has done six near sell-out concerts with his band of talented musicians at the Smothers Theatre on the stunning, ocean-view campus at Pepperdine University in Malibu, CA.  This 500-seat theatre has been the perfect venue for Rozum to celebrate the release of his latest music projects.  He has also been involved in Music Ministry, playing with amazing musicians in several churches, as well as performing for annual Award Shows, private parties and solo unplugged performances at Private Home Concerts.  Rozum loves the intimacy of the private home concert shows, with about 20 to 40 people in attendance, playing while surrounded up close and around the piano.  These smaller concerts allow Rozum to showcase his original musical artistry and passion of his songwriting while story telling about his music. Joe made his debut performance with his band in August 2017, at Herb Alpert's Vibrato Jazz Club in Bel Air, California.  The evening was SOLD OUT!!!  Since that magical evening, all of his shows to the present at Vibrato have all been SOLD OUT!! 
As a piano teacher, Rozum has been successful at having great students throughout the years. Some notable students he has had the awesome pleasure of teaching piano include John Stamos (Full House, ER), Lori Loughlin (Full House, 90210), and Bette Midler.