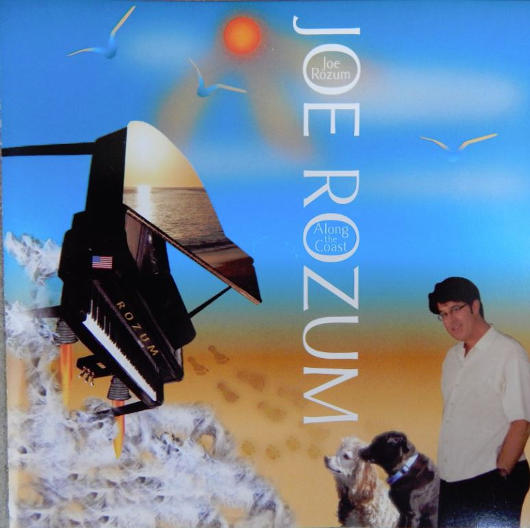 1 – The Miracle 1:47
Music – Joe Rozum © 2007
2 – A Crystal Smile 4:01
Music – Joe Rozum © 2007
3 – Along the Coast 7:17
Music – Joe Rozum © 2007
4 – Silence Of The Stars 3:56
Music – Joe Rozum © 2007
5 – Dinner By Candlelight 5:24
Music – Joe Rozum © 2007
6 – The Himalayan Angel 5:36
Music – Joe Rozum © 2007
Vocals – Annalee Kennedy
Bkgd Vocals – Gary McLaughlin
7 – Sunburst 4:33
Music – Joe Rozum © 2007
8 – Midnight Mission 4:20
Music – Joe Rozum © 2007
9 – Chocolate Toast 6:02
Music – Joe Rozum © 2007
10 – She's As Pretty As A Picture 3:22
Music – Joe Rozum © 2007
11 – Piano Marinara 6:00
Music – Joe Rozum © 2007
12 – Footprints On My Heart 5:01
Music – Joe Rozum © 2007
13 – Cyberenergy 4:11
Music – Joe Rozum © 2007
14 – Breakfast Romance 4:03
Music – Joe Rozum © 2007
15 – The Flight Of The Dove
Music – Joe Rozum © 2007
Total Running Time 70:56
Joe Rozum
– Piano, Organ, Strings, & Synth Bass

Charles Meeks
– Bass on Tracks 3, 5, 8, & 9. 
Harmonica on Tracks 3 & 9

Grant Geissman
– Acoustic, Electric, & Slide Guitar

Robert Kyle
– Tenor Sax & Flute

Gary McLaughlin
– Percussion & Drum Programming

Erika Wolczak
– Violin

Annalee Kennedy
– Vocals
Produced by: Joe Rozum & Gary McLaughlin
Engineered & Mixed by: Gary McLaughlin
Graphic Art Design by: Sharif Lutfi
Photography by: Mark Boskovich
Photography of Joe's dogs by: Joe "Dogalongthecoast" Rozum
Recorded @ DMO Studios in Sherman Oaks, CA
(November 2006 – May 2007)
I want to thank everybody who has been a listener of my music & a supporter of my concerts. I truly appreciate it very much! My very dear friend, Sister Bernadette Murphy (SSL), recently gave me a beautiful key chain souvenir from her trip to Ireland. I would like to share with all of you. And thank you again for listening to my music! My best to all of you!
-Joe
Irish Blessing
May God grant you
always a sunbeam
to warm you.
a moonbeam to
charm you.
a sheltering angel
so nothing can harm you.
Laughter to cheer you
faithful friends near you.
and whenever you pray,
heaven to hear you.
I would like to thank everybody that helped me make my third CD a huge success!
To Charles – A huge THANK YOU to you… your bass & harmonica are stellar. What a blast to work with you again my long time friend!
To Grant – AWESOME guitar.. you just rocked the songs in your usual fashion… one take and onto the next sone! Thank you Grant!
To Robert – Another OUTSTANDING sax & flute performance. Thanks for coming back and back again Rob! You rocked my CD!
To Gary – ANOTHER CD COMPLETED…5 ½ months of hard work finally completed! Thank you a million Gary for all the engineering & percussion, you're awesome Gary!
To Erika – WOW! Absolutely beautiful violin playing. What a pleasure to work with you Erika! Thank you a million!
To Annalee – Your vocals on "The Himalayan Angel" just put my song into another world. We finally got to work with each other! THANK YOU…THANK YOU…THANK YOU ANNALEE! Awesome performance!
To Sharif – WHAT AMAZING work you did for me…I knew one day we would work together & it happened! I appreciate everything & THANK YOU SO MUCH!
To Mark – THANK YOU for doing the photography…we made it happen & I appreciate your efforts & time to get the right shot! Thank you my friend… You rock!
To Order this album
Each CD is $15 + $2.25 for shipping and handling.
Please mail a check to
Joe Rozum
6520 Platt Ave
#299
West Hills, CA 91307-3218